Posted by
C
at 7:00am May 24 '10
You must sign in to send C a message
Well, it was sort of
like I feared
.
Some cheap ass gimmick so they wouldn't have to explain all the intricacies and mysteries of the show. It was all make believe and everybody was dead on that plane when it first crashed. The island was "limbo" (who the fuck was the "dharma initiative?) and everything was lies.
Cheap, cheap, motherfuckers. I knew when there were no answers after about 20 mins into it, that it was going to end in bullshit.
This was from the
intro of the recent Simpsons
: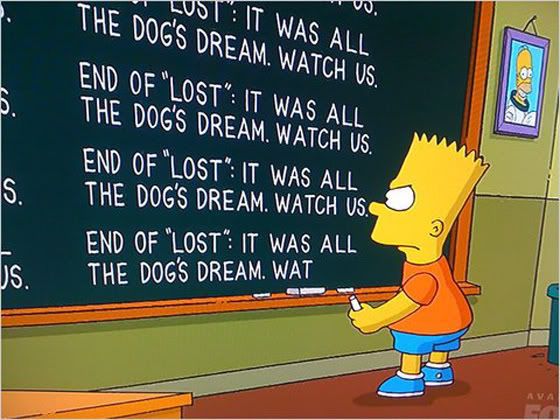 I don't know about you but the ending right before Jack died, and the dog came over and layed by Jack until it was over...
added on 7:01am May 24 '10:
I find it hilarious that the dog went and laid* down by Jack at the end, in light of the joke by the Simpsons.